It can be hard to know where to look when you need to replace your boiler, so we have produced this simple boiler guide to help you through the process of working out what boiler and package is right for you.
What's the real cost of replacing a boiler?
How can some people get their boiler replaced for under £1,800 and others pays over £4,000?
The differences in boilers can be vast. They produce different amounts of power and come with different warranties, different components and different applications. There are 3 main types of boiler:
A combi boiler - the most common type of boiler, but not suitable for all boiler replacements. Combi boilers integrate both heating and hot water without the need for further components such as hot water cylinders. They can save a lot of space and can be more user friendly. They range in KW output from 24-40 KW.
A heat-only boiler - this boiler produces heat for a hot water cylinder in the property to produce hot water and heats the radiators. It is usually 'open vented', so there is low pressure in the heating system. A heat only boiler is a great option when there are mains water pressure issues.
A system boiler - works very much the same as the heat-only boiler. The heating system will be pressurised, which reduces the chance of air creating a problem in the system and eliminates the need for header tanks (usually in the loft space). The pump is inside the boiler which means its covered by the manufacturer's warranty.
When deciding which new type of boiler is right for you,
there are a few things to consider

Hot water and heating usage

The size of the property that the new replacement boiler needs to heat
For a modest sized house with one bathroom and perhaps an en-suite, a combi boiler will be more than adequate for the hot water needs.
In a large house with multiple bathrooms and hot water outlets, a combi boiler would be less suitable. A combi is directly supplied by the water mains coming into the property, so the flow can be affected by opening other taps. A heat-only or system boiler uses an insulated cylinder of stored hot water. This means that several taps can be used at the same time.
A property with 30 radiators will need a new boiler with significantly more power than a property with 8 radiators.
Our engineer can help you decide which type of boiler would be best for you, along with the KW output
When do you know your boiler needs replacing?
Some Dynamic Gas customers change their boiler when it breaks down and doesn't work anymore. This can cause distress as having no heating or hot water, particularly in the Winter, can be a very unpleasant experience for you and your family. Other customers know a boiler replacement needed soon and decide to get a new boiler fitted before the old one breaks down. When you decide to change yours is completely up to you.
An engineer can tell you when your boiler is about to break, but often you'll see the signs yourself. However, you may not understand the engineer's technical jargon. We've simplified the signs and terms for you below:

'Beyond economical repair'
A gas engineer might describe your boiler as beyond economic repair, so you need a replacement boiler. However, it doesn't mean that it can't be repaired. It just means that repairing it may cost you more than purchasing a new boiler. Older units contain parts that are harder to source, older boilers tend to be more complicated to fix. When some parts start to fail, the other parts are just as old. It would be cheaper and safer to have a new boiler replace the older unit than to pay for multiple repairs.
No matter what state your boiler is in, Dynamic Gas can replace your boiler. Unlike other schemes and government-backed grants, the only criterion we look for is that you own the property. It's that simple.

Inefficiency
An older boiler can be extremely inefficient. Boiler efficiency is rated on a SEDBUK band (Seasonal Efficiency of Domestic Boilers United Kingdom). Both the Viessmann Vitodens and the Worcester Bosch boilers are in group A. Older boilers can be in any group up to G, which is less than 70% efficient. According to the Energy Saving Trust, a new group A boiler can save you over £300 per year on gas.

If your boiler has a continuous pilot light
This is a common feature on older boilers and a real waste of gas. All the time the pilot light is lit, it's burning gas and costing you more. New boiler installations have automatic ignition, meaning no gas is burned unless it's needed.

Floor mounted boilers are old-school
If your boiler is mounted on the floor, it's likely to be very old and inefficient. A wall-mounted replacement boiler will be more efficient.

Extensions and Renovations
If you're making changes to your property. If you are extending either the heating system or the demand for hot water, you need to check what the boiler can cope with. Boilers can often be working at their limit. Once more load is added, it may not be able to produce the heat required, or worse, may break down. Changing your boiler may also add to the value of your property.
What Size of New Boiler Do I Need?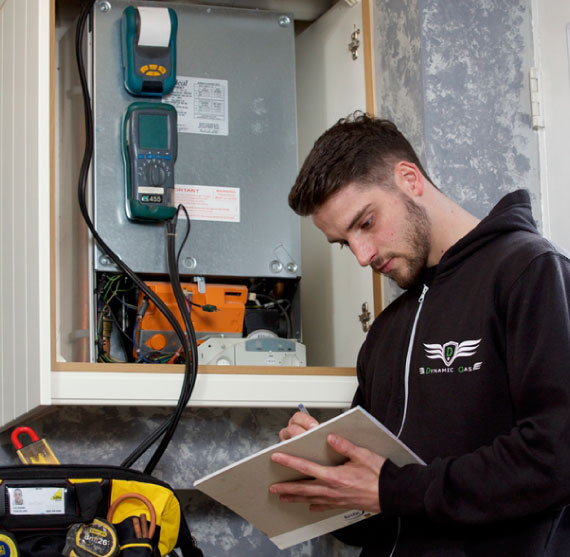 In the very early stages, we suggest that you establish the amount of power you need your new boiler to have. A boiler that produces 24KW is much cheaper to buy and install than one which produces 34KW. But be aware that if your boiler can't produce enough heat, you won't have a warm home.
This can be a key difference in the quotes you might receive. As smaller Kilowatt boiler will be cheaper to install, but might cost you more in the long run in parts as it struggles to heat your property. Likewise, an over-large high power boiler will run inefficiently and cost you more money on your energy bills. The Institute of Domestic Engineers has a good online calculator that can work out the size of the boiler that you need.
Alternatively, you could just ask the Dynamic Gas surveyor when they visit your property. They will be using a similar formula to calculate the size of the boiler you'll need.
What's the Best Boiler Brand to Go For?
There are many different boiler brands on the market. Each company will have their preferred brands as that's what they are used to. We focus on two boiler manufacturers; Viessmann and Worcester Bosch. We believe these manufacturers to be the best available.
The Worcester-Bosch Greenstar i combi boiler is the replacement for the well-established award-winning Greenstar i Junior, which has been installed in over one million homes across the UK.
Perfect for small to medium sized homes with one bathroom, the boiler's new features have been designed based on feedback. These boilers now include increased outputs, higher hot water flow rates of up to 12.3 litres/min, a user friendly control panel and a larger condensate siphon that eliminates the risk of condensate freezing.
With its downward-firing gas to water primary heat exchanger, the Greenstar i range is in a league of its own, ensuring maximum heat displacement per KW of gas used.
Why we mostly fit Viessmann and Worcester Bosch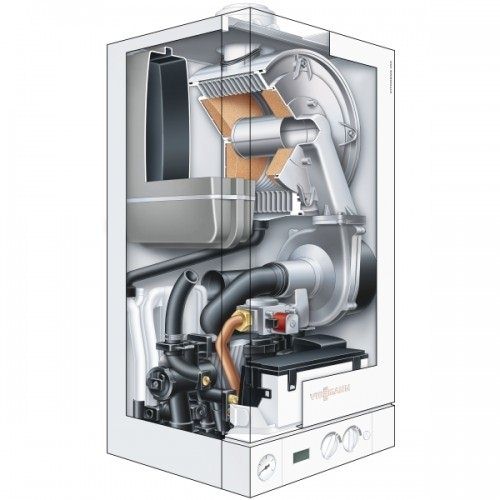 The Viessmann boiler is the number one best seller in Germany with an astonishing 1 in 3 homes having one installed.
Its innovative Inox Radial heat exchanger is one of the best in the business.
The Viessmann range also comes with a fully comprehensive 10 year warranty.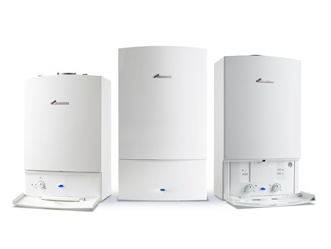 Worcester Bosch is the biggest name in boiler replacements.
They have been around for decades and have boilers installed in all parts of the country.
Their customer service is excellent, as is the quality of the boilers they build.
But how do you check out what brands are the most reliable?
Which? Magazine produced a really good boiler guide which we recommend you read before speaking to anyone about boilers and which brand to go for.
What length of guarantee should I go for?
The longest one available – what most customers want is a 10 year guarantee. Just remember to get the boiler serviced according to the manufacturer's guidelines and their guarantee will typically last longer than the payment period you have with us.
Our expert Dynamic Gas team will look after you and do the very best job, without any worry or hassle. It's the little things that often matter the most, which is what our Dynamic Gas customers always tell us.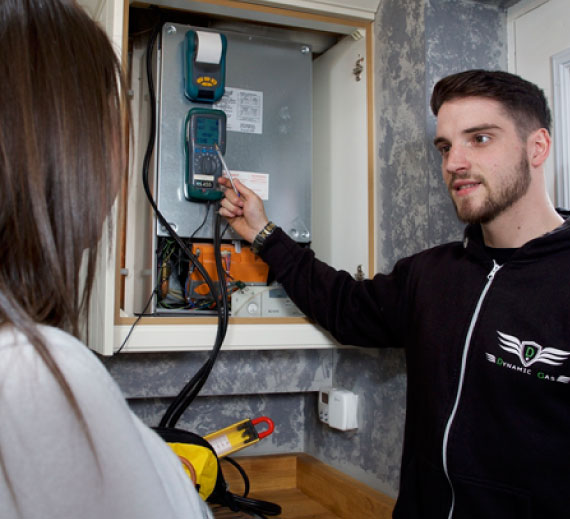 Once you've decided to go ahead with having your boiler installed by Dynamic Gas, we'll agree the final specification of the installation and book a convenient date for you.
Need it fitted in a hurry because you've got no heating or hot water? Don't worry. We can start fitting the boiler within 48 hours in some cases.
At Dynamic Gas we'll fit your new boiler with minimum disruption to your home, taking care to cover carpets and other surfaces with dust sheets, and we will tidy up afterwards.
If it's a straight swap, it shouldn't take longer than a day. Once the boiler is installed, we won't leave the site until you are happy and we've fully explained how the new boiler and its controls work.
Need a new
gas replacement boiler?
1. Call our friendly team of engineers
2. Tell us when you'd like your survey completed.
3. We'll send one of our guys out to you in a jiffy!
And remember, we'll give you all the options available, so you can choose what's right for you.
Not a fan of the phone or unable to call right now?
Click the button below to email and we'll get right back to you.